We work at maximum capacity to provide customers with sufficient quantities of one of the most sought-after necessities – toilet paper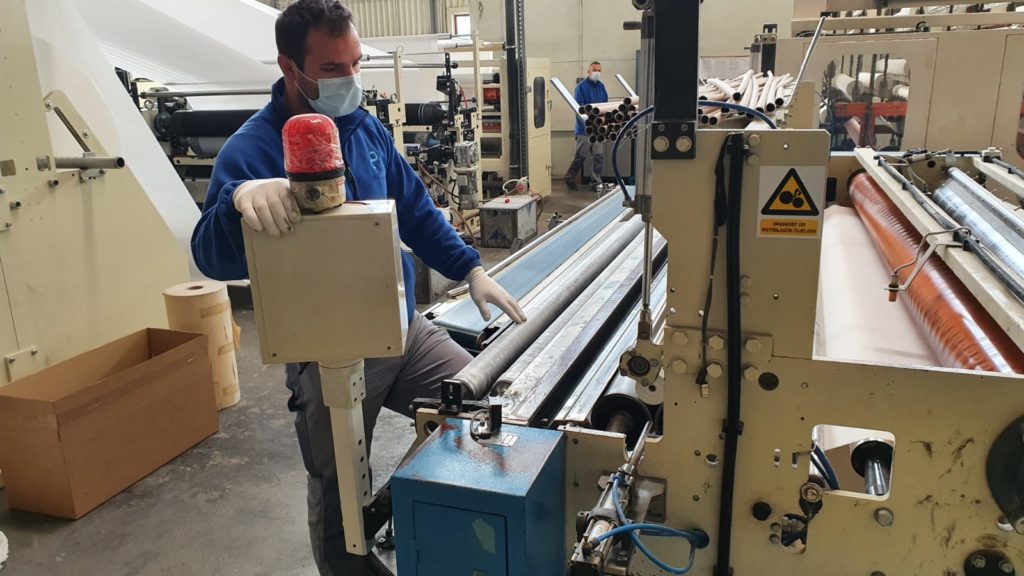 Manufacturing workers pay attention to the safety of themselves and their colleagues
COVID – 19 practically overnight changed life in Croatia. Dealing with the crisis has led to the desolation of store shelves, with toilet paper among the most sought-after necessities. With the rise in demand, we also increased production of the paper confection. Manufacturing capacity rose to its maximum capacity for all of our brands, especially for our brand Ola'la and other retailers' trademarks.
"We would like to assure our fellow citizens, as well as all the inhabitants of Croatia, that they have sufficient quantities of toilet paper on the shelves of the shops at any time. Our production is working a lot, but we are glad because we can help in this time of crisis that the modern world has not encountered before", said co-owner Kruno Kisak.
"In addition to providing our employees with home-based work as much as possible, we also care about our manufacturing workers. We ensure adequate distance and minimal contact with other colleagues, all employees wear protective gear and masks that change on a daily basis. Frequent touch points are disinfected every 2 hours and the entire area on a daily basis. Our workers' safety comes first. Also, we do our best to provide citizens with enough toilet paper", co-owner Alen Krajacic added.
Although the import of cellulose is difficult, Delt Papir makes every effort to use all its supplies to maximize production and distribution to the shelves. Domestic production, therefore, can and must be a pillar of the Croatian economy. The coronavirus crisis shows that there are positive examples of Croatian entrepreneurship supplying the population with essential products on a daily basis. Toilet paper turned out to be at the top of demand. The crisis is sure to bring a lot of positivity, and one of the bright spots for the Croatian economy is our ability to help in this time of COVID – 19 crisis.
We bring an interview of co-owner Kruno Kisak for the newspaper Poslovni dnevnik:
'Naša je proizvodnja nužna i mora biti jača za domaće prilike'
How much do you produce annually? What's in the product range?
We currently convert 12,000 tonnes of paper per year into finished products, namely paper towels and toilet paper.
Since when has toilet paper production been made? I'm reading somewhere that you ran a Tardi company before, for distribution?
We started with the production of napkins in 2004. Delt Papir was taken over in 2008, when we "retired" existing production lines and replaced them with new ones. After the acquisition of Delt Papir, the production of napkins was annexed to its manufacturing activity.
The most sought-after brand currently is Ola'la. How much is sold otherwise, and what is the increase now, at a time of extra demand due to consumer concerns about the coronavirus pandemic?
Two brands, Tubeless for professional use and Ola'la for household, are our most sought-after products. 25% of our production comes from the Ola'la brand, but at this time, during the COVID-19 pandemic, production has grown significantly.
What other brands do you have and where do you market?
We produce household paper trademarks for domestic and foreign retail chains and market them in Croatia. We produce professional brands for customers in the European Union, such as Germany, Iceland, the Netherlands, Belgium, Austria, Denmark, Switzerland, etc.
Do you also have products for professional use?
Of course, the production of items for professional use is a significant part of our range. As I stated earlier, a large percentage of our professional products are exported. We also market our products on the domestic market through our distributors. We channel products for professional use as much as possible through our own Tubeless brand – paper without inner tube.
You state that the import of cellulose is difficult, where do you get raw material from?
Yes, imports are very difficult in times of crisis, however, we currently manage to get enough raw materials from various sources so that production runs smoothly. Prior to the outbreak of the COVID-19 pandemic, most deliveries were from Italy and are still significant, but lately, our supplies come from other countries, too.
You say that now you are working at maximum capacity. How much is that? How many workers are engaged in manufacturing and do you manage to meet the growing needs of the market?
The maximum capacity in our production means that all production lines operate in three shifts. We currently have 70 manufacturing and logistics workers, and so far we are able to satisfy all our existing customers' orders. However, we are forced to reject customer inquiries from other countries on a daily basis because even large retail customers, such as Aldi, are currently seeking goods from us. At the moment, our priority is the Croatian market.
How did you organize the work, due to the increased care and safety required of all (social distancing, hygienic standards …)? How many workers work from home and how did you managed it?
All our employees, who are not necessarily physically needed in the company, work from home. It is a sales team and part of the office staff, ensuring greater social distance. The absence of other employees is not possible because they are closely related to production in this mode of operation. All employees are required to wear protective equipment, as usual, but we have additionally equipped them with protective gloves and disposable masks, which every employee changes every shift. Critical points in the company are disinfected every 2 hours, while the entire surface is disinfected once a day. Employees have taken all measures and are acting very responsibly to protect themselves and others. The advantage is that the production lines are very long, so in reality, the space between workers is in most cases over 5 meters. If the virus escalate, we will organize a different mode of work in which the employees, divided into teams, will work alternately by weeks. We have not yet introduced such measures.
How many workers do you currently have and what are their qualifications?
Delt Papir currently has about one hundred employees of various qualifications.
Where do you export everything and how do you handle it now? How much revenue comes from exports?
We export our own Tubeless brand to 25 countries in Europe and the Middle East. Our brand can be found in Iceland, Ireland, Germany, Italy all the way to Dubai, Israel, Kuwait and Bahrain. We ended the year with 50% of exports, and for the first two months of 2020, until the outbreak of the coronavirus pandemic, exports experienced a major upswing, accounting for 65% of total revenues.
What EU projects do you implement in the company and what are the values?
For the acquisition of one production line in 2015, we received HRK 2.0 million in grants from EU funds, when we were also declared the best medium-sized entrepreneur. We are currently applying for two more projects, namely the ICT and S3 programs, but so far we do not have confirmation that we will get the support we have requested.
What is the revenue of Delt Papir for the last year and what do you foresee for this year, due to the crisis which has no end in sight?
Revenues in 2019 were HRK 129 million, an increase of 14% over 2018. At the moment, it is truly ungrateful to predict what 2020 will be, given the global economic difficulties. We are the production that is necessary at a time of such a crisis because borders are closing and all manufacturers will focus on their own market and their citizens, so we expect increased revenues, but we should not forget that we depend on imports of raw materials.
How is your investment in the Tubeless system going?
The investment is going its course and should be realized in May. However, as part of the line comes from Italy, everything is questionable, although our partners assure us that everything will be completed on time.
---