Certified surgical masks produced in Croatia – health in the first place
As the first Croatian company with completely local production of paper products for hygienic use, the board of DELT Papir carefully listened to the emerging needs of the market and decided to invest in a new production plant for its own production of certified 3-ply surgical masks.
Protective masks have become an important addition to personal hygiene as a preventive means of preserving personal health, but also the health of the people around us. The Covid-19 virus pandemic has completely changed the world's economic priorities in just a few months. Companies engaged in the production of hygienic paper products, protective equipment, disinfectants, plexiglass partitions and many other highly wanted products that are important for general health safety have become overcapacitated, and their production facilities operate virtually continuously. The guiding idea of DELT Papir is to raise awareness of personal hygiene to the highest level, and thus invest heavily in innovative technologies to make their products globally competitive, especially to provide their fellow citizens with the highest quality domestic hygiene products.
The decision to manufacture surgical masks came as a necessity because we also had to provide our employees with sufficient quantities of protective equipment, including masks, and this sometimes was not easy. In order to support the market with new stocks of protective surgical masks, in the first phase of production, the company's bord wants to provide sufficient quantities for domestic needs. Aware of the fact that local production is currently the mainstay of the crisis-shaken economy and that our production activities are creating a significant share of market recovery, and this project, as well as all previous investments, the company wants to make a strong contribution to the domestic economy.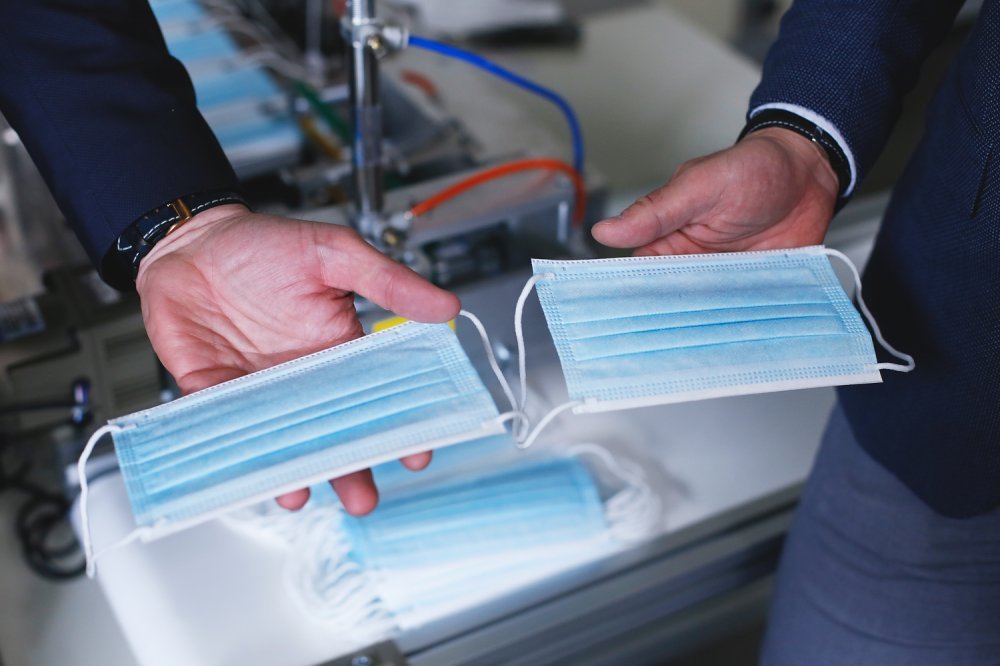 Photo: Matej Grgić
"When planning a new production plant, we primarily wanted to ensure a calmer preparation of the domestic market for a possible second wave of coronavirus. Surgical masks are a very useful product without which at this moment we can practically not work in a team, use public transport, go shopping. Due to their special structure and filtering characteristics, surgical masks have proven effective in preventing the spread of droplets that occur during speech and breathing, and in everyday life, conversation is what forms the basis of work and life, "explains one of the reasons for the new investment cycle in DELT Papir director Alen Krajačić.
In addition to everyday life, we have witnessed a global crisis and a shortage of protective equipment, necessary for the operation of medical institutions. In our Zagreb company, we want to make it easier for the domestic market to wait a long time for shipments from abroad. Although the situation with the procurement of protective equipment in Croatia has stabilized, the owners of DELT Papir emphasize the importance of domestic production, which in the coming period could be of great importance for the uninterrupted stability in the supply of protective equipment.
"Our hospitals and other health care institutions must at all times be able to supply their employees with protective equipment, especially protective surgical masks that are changed several times in shifts and are indispensable in working with patients. Clearly we hope and eagerly expect an adequate medical solution to end the battle with the virus, but time is relentless and we do not want to leave things to chance. Good production planning will certainly make a big difference if a new wave of Covid-19 does occur, "adds Kruno Kišak, director of DELT Papir.
The private sector is facing a battle with uncertain market turmoil, but companies engaged in the production of products of significant importance in the emerging economic needs should certainly continue to support because their stability depends on many jobs, but also the health safety of our fellow citizens, health workers and patients.
Given the development of the situation with the coronavirus in Croatia, the chances for the introduction of legal regulations for the mandatory wearing of masks during larger gatherings have increased. As a manufacturer of certified masks in Zagreb, contact us with confidence to order sufficient quantities.
---